Fluid shapes have become one of the most used web design trends in the last decade and the Image Mask module will help you display your images in a more attractive and sophisticated way. This module comes with 40 predefined shapes where you can wrap your images easily. Each shape has a custom border that can be enabled or disabled.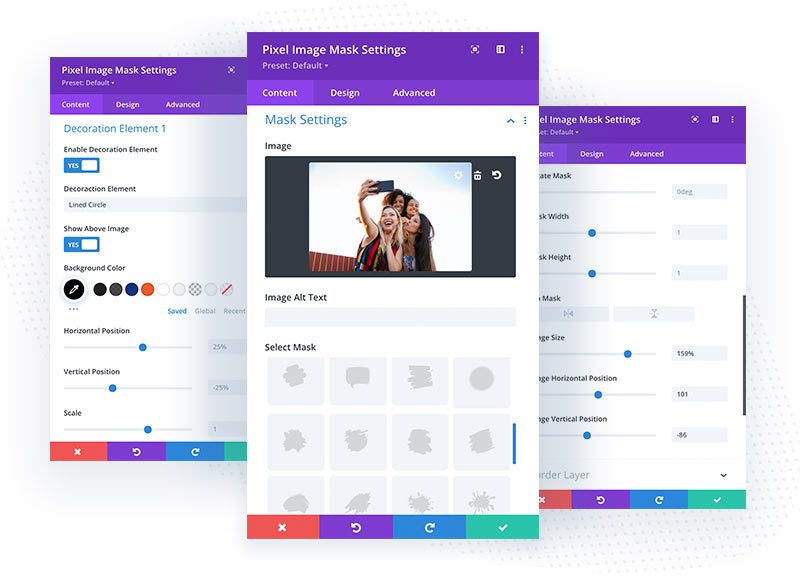 Mask Settings
In the Mask Settings tab, you can upload the image, select the mask shape you want to use, define image size and set the image position so it is displayed well and fit the shape perfectly. The module also allows you to customize the mask appearance by adjusting mask height, width, rotate the mask and flip the mask horizontally and vertically.

Border Layer
Border Layer is a custom border added to each mask. Once it's enabled, we can control the color of the border by selecting a solid color or gradient.
Decoration Elements
The Image Mask module also allows you to add 2 additional layers which can be added to your shape image. You can change decorative element color, size, position and rotate the element to achieve a beautiful result. There are 15 shapes available.

Custom Image Mask
These all masks and customization settings available in the module give huge possibilities, however, if you feel you need to use a custom mask, you can now do it! The Divi Pixel Image Mask module allows you to upload custom masks in SVG format. Furthermore, all mask customization settings (expect Custom Border) will work as well, so you can rotate, change the size and flip your mask just like all predefined shapes!